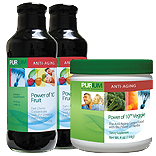 Anit-Aging at any Age
Anti-aging at any age!
Nutritional experts have long said that 5 servings of fruits and vegetables satisfies the MINIMUM daily requirement for maintaining basic body/brain function but that 10 servings of fruits and vegetables is OPTIMAL. Only 1% of us consume 10 servings of fruits and vegetables on a daily basis. When you take the POWER OF 10, expect to experience:
More energy
Better sleep
Improved digestion
Cleansing and detoxifying
Weight loss
The POWER OF 10 is the perfect antidote to the harmful effects of our "Western Diet." It makes the good things you eat better for you and minimizes the bad things. In just two short weeks, you will start to look, feel and perform like a younger person!
If you want to experience true anti-aging, you've got to try the Power of 10.
Anti-Aging Power of 10
Power of 10
1 month supply